Product List
Contact Us
SHENZHEN LEADFAR INDUSTRY CO.,LTD
Add: No.73 ShaTian North Road, ShaTian, KengZi,PingShan, ShenZhen, China (P.C: 518122)
Tel: 86-755-28827888
86-755-84289809
Fax: 86-755-84289965
Contact: Kitty Liu(Manager)
Phone: 13715340302
PRODUCT INFOMATION
Name:

Smart Thick Memory Foam Seat Cushion (智能坐垫)

Material:
Memory Foam
Item No.:
Smart cushion
Weight:
Dimensions:
45*35*6.5cm
Use:
Seat cushion
Color:
Blue,Pink,Black,etc
Origin:
Shenzhen China
Other:
PRODUCT DETAILS
Smart Thick Memory Foam Seat Cushion
Smart cushion:
* "Stand up,Stand up!Go for a walk!"
* Smart, for a healthy life,this smart seat cushion will vibrate.
* The sensor with timer is inside the seat cushion.
* The user will be remind by vibrator after seat down for 50 minutes.
* Super low power consumption core, the button cells can lasts for 8 months.
"Sitting is the smoking of our generation."
Sit smart for a healthy body and mind
This is the world's first smart cushion that monitors your posture, sitting habits, stress level, and coaches you to sit better.
When you spend any amount of time behind the wheel, it's not only your back that needs a little extra support—it's your bottom. Find the comfort you need with our vehicle seat cushions. We have specially designed cushions that will relieve pressure, correct your posture, and even massage your tush.
Back related pain or injuries can greatly affect your daily life and your work. This is especially true if you spend numerous hours sitting in front of a desk daily. Not only can it distract you from doing your work properly but it can also bring about an excruciating amount of pain.
The Orthopedic Seat Cushion For Lumbar Support And Lower Back Pain Relief
Feel As If You're Sitting On Clouds With The Comfy Pro Seat Cushion!
Want relief from lower back pain?
Feel discomfort and numbness in your buttocks from sitting too long?
Tired of foam that quickly flattens and cuts off circulation to your legs?
Are you looking for a cushion to help with your lower back pain, sciatica, or other back related injuries?
Don't worry because the NEW Comfy Pro Seat Cushion has your back…LITERALLY!
This BRAND NEW cushion offers the following health benefits:
It's special ERGONOMIC contoured shape distributes weight properly for proper posture and spinal alignment.
The therapeutic properties assist in RELIEF from from lower back pain, pressure sores, or sciatica.
Provides comfort and proper lumbar support.
The lumbar cushion can facilitate treatment and recovery from back pain, sciatica, pressure ulcers, and more.
Grey Comfy Pro Seat Cushion The orthopedic seat cushion features:
A high density memory foam – will not flatten as much as conventional foam.
A non-slip soft velvet cover – stays in place on most surfaces.
Can be used as an office or lounge chair seat cushion, car seat cushion, truck driver seat cushion, wheelchair cushion, and more.
Removable washable velvet microfiber cover + a FREE extra cover included.
Made from high density thermo sensitive memory foam. Numerous research and tests were conducted in order to perfect this product.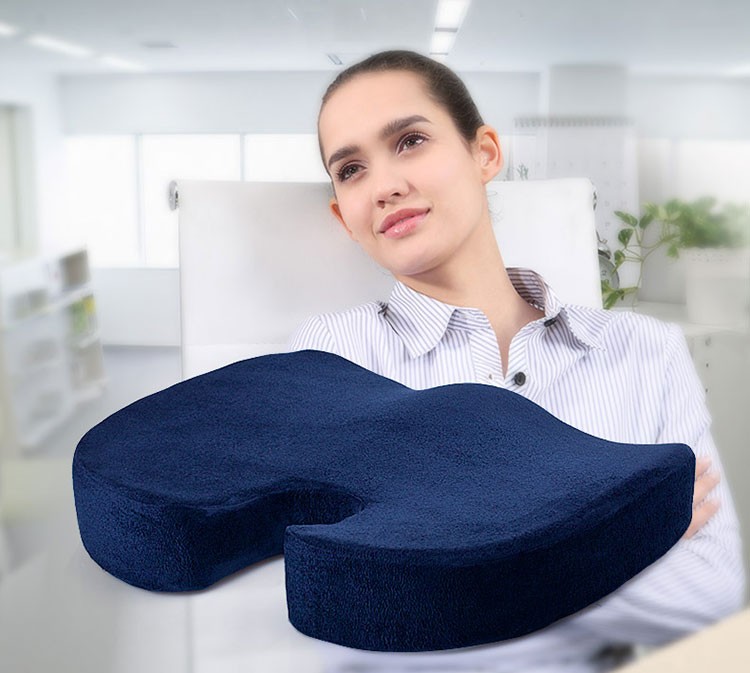 Inquiry or message please fill in the following form the feedback we receive the form and will in 1-3 working days give you an answer, please fill in your real contact way!